Following the Ryzen 4000-series mobile processors, AMD presented a new video card based on the Navi — Radeon RX 5600 XT GPU at the presentation at CES 2020, which has been very much rumored recently. According to AMD, the new product provides "ultimate" gaming in 1080p resolution.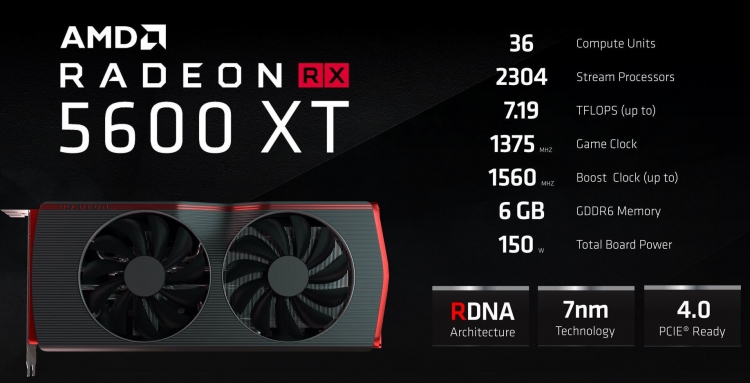 The Radeon RX 5600 XT is based on the first-generation Navi graphics processor with RDNA architecture, which includes 36 computing units. This means that there are 2304 stream processors, just like the Radeon RX 5700. However, the clock frequency of the new GPU is much lower: the base frequency is not specified, the average frequency in games is 1375 MHz, and the maximum Boost frequency reaches only 1560 MHz. For comparison, the Radeon RX 5700 has the last two indicators equal to 1625 and 1725 MHz, respectively.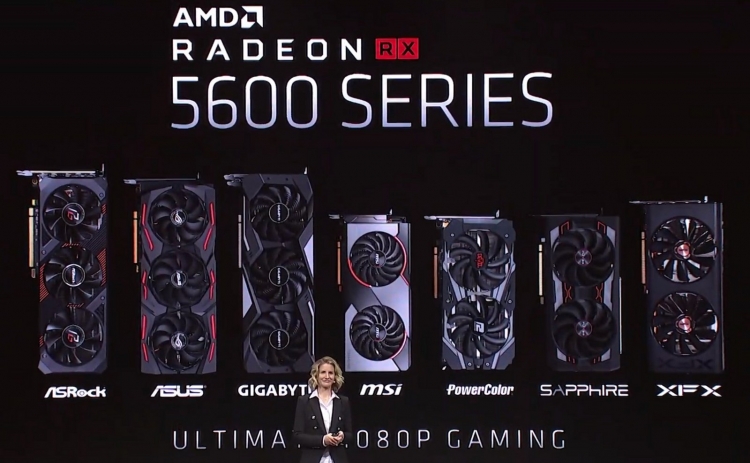 Another important feature of the Radeon RX 5600 XT is the presence of 6 GB of GDDR6 memory with an effective frequency of 12 GHz, which is connected over a 192-bit bus. As a result, the bandwidth of the memory subsystem is 288 GB/s. Recall that the Radeon RX 5700 has 8 GB of memory with a frequency of 14 GHz, 256-bit bus and a bandwidth of 448 GB/s.
The new product is positioned as a direct competitor to the NVIDIA GeForce GTX 1660 Ti video card, which it is ahead of both in popular multiplayer games and in various projects of class AAA. In both cases, we are talking about a resolution of 1080p. also Radeon RX 5600 XT confidently bypasses the GeForce GTX 1060 and GeForce GTX 1660 Super.
Due to lower frequencies, the power consumption of the new video card is reduced to 150 watts. For additional power, the Radeon RX 5600 XT is equipped with a single connector with eight pins. The video card will be available only in versions from AMD's AIB partners, the release of a reference modification is not planned. The Radeon RX 5600 XT will go on sale on January 21 at a recommended price of $279.
In addition to the desktop Radeon RX 5600 XT, AMD also announced mobile video cards Radeon RX 5600M and RX 5700M. the Manufacturer did not disclose the characteristics of new products, noting only that they will offer the same high level of performance and a set of features as their desktop versions. Laptops with mobile Radeon RX 5600M and RX 5700M will appear in the first half of 2020.