Doom Eternal-a shooter extremely dynamic and quite hardcore, especially at high levels of difficulty. And if in the case of ordinary shootouts, the advice is one-run and shoot, then in boss battles everything is not so simple. Don't worry — in this guide, we will tell you about the weaknesses and features of these formidable opponents, as well as tell you how to deal with them better.
How to kill the Doom Hunter
You will fight the Doom Hunter in the final mission "Rock Hunter Base". This boss is a huge cybernetic demon created specifically for hunting the Executioner of Doom. The monster hovers above the ground using a special platform that replaces its legs, and among the weapons it has-an energy gun instead of the right hand, a chainsaw instead of the left, a rocket launcher that releases several small projectiles, and two guns mounted on a floating platform. The Hunter himself is protected by an energy shield, which absorbs all damage for the time being.
The shield is probably the main problem in any battle with a Hunter. Specifically, in this mission, the situation is complicated by the fact that the hero does not yet have so many weapons, there is only a shotgun and superdrobovik, as well as a rocket launcher, a heavy gun and a plasma gun. That's just using plazmogana and should destroy the shield. And not only this, by the way, but plasma is also effective against soldiers with portable shields.
Destroy Its Floatilla Sled
Doom Hunter's main source of defense and attack is from the sled he is riding. This can be destroyed to remove its rocket barrage and also its shield capabilities. If its Sled is not destroyed, the shield will recharge.
Blood Punch Deals High Damage VS Sled
A blood punch will severely damage the sled making it a good tactic to start a fight with a punch. Doom Hunters are aggressive when they're on the sled however so you might not be able to farm a blood punch unless you have one already.
Changes Behavior When Sled Is Down
The Doom Hunter will be less aggressive after their Floatilla Sled is destroyed, maintaining distance and resorting to hit & run attacks instead of its head-on assault. Super Shotgun's Meat Hook will let you latch on to it as it runs off.
Break Shield With Plasma Rifle
Doom Hunter is equipped with an energy shield if its Floatilla Sled is not broken. Use Plasma Rifle to break off its shield to do damage to its body. The shield will recharge after a while if sled is still around.
2 Stage Battle vs Doom Hunter
The fight against Doom Hunter is a 2 stage battle where you tank/ avoid until the sled's destroyed and then try to hunt it down after it goes into hit & run mode. Weapons suited for the job changes as result.
Super Shotgun & Chaingun To Destroy Sled First
If you want to focus on its sled, you can first "tank" it with the Chaingun's Shield while focus firing the sled, then switch to Super Shotgun to finish the job. This let you get Doom Hunter off your back for a while to deal with other threats.
Rocket Launcher & Super Shotgun For Kills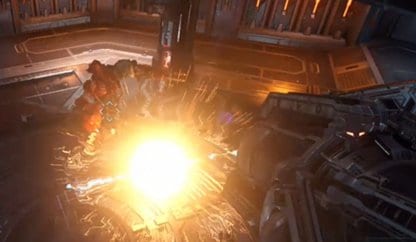 After the sled's gone, use rocket launcher & Super Shotgun to burst it down. As Doom Hunter maintains distance and will dodge your attacks, fast-firing attacks like Chainguns can miss a lot .
Appears As Boss On Mission 4
Doom Hunter will be the bosses of Mission 4, and then appear as mini bosses in the missions afterwards. You'll fight up to 3 Doom Hunters in Mission 4 so be prepared.
May Also Summoned By Archvile
Doom Hunter may also be brought in by a Archvile with its notorious summon ability. Be on the lookout or you may have a numerous Doom Hunters running loose.
Doom Hunter – Attack Pattern & Features
Chainsaw Slash
Doom Hunter will use his chainsaw in close proximity of you. If it raises its left arms in a wild fashion, dash back from it. It will try to charge you for a slash when its sled is destroyed and run off.
Cannon Fire
Fires cannon shots at you with its right arm. Dodge to the sides to avoid. The cannon is a weak spot and can be destroyed but is usually not worth the effort.
Rocket Barrage
Fires homing missiles at you. Look for the homing warning and duck away. Missile firing will be disabled when is sled is destroyed.
Gattling Burst
Twin Gattling gun mounted on the sides of the sled will spray you in conjunction with other ordinance. Dodge to the sides to avoid most of the barrage. Destroy the sled and this goes away.
Energy Shield
An energy shield will protect Doom Hunter as long as its sled is not destroyed. It can be overloaded with Plasma Rifle, but will recharge after a while. The shield is up when your strikes makes it glow in blue.
How to kill the Marauder
The Marauder is probably the most persistent and unloved demon from Doom Eternal. He is the only one who is vulnerable only in rare moments, and most of the fight he can not be damaged. Even with a shot from a BFG 9000!
Weak To Ballista & Super Shotgun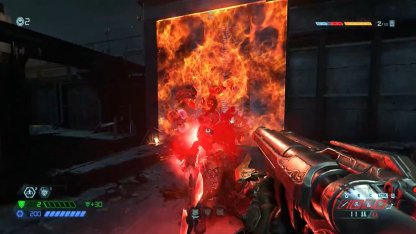 The Marauder is a strong enemy that is highly resistant to most weapons. It is particularly weak to the Ballista and Super Shotgun, but only when attacked at the right time. Attacking it outside of the window of opportunity will only cause it to bring up its shield.
Resistant to Super Weapons
The Marauder is also resistant to Super Weapons such as the Chainsaw, Crucible, and even the BFG 9000! Despite these weapons still dealing damage to the Marauder, it is recommended to face the enemy with a different strategy to avoid wasting ammo and charges.
Attack when Eyes Glow Green
The window of opportunity will appear during the Marauder's attacks. Watch the enemy's eyes, and attack the enemy when the Marauder's eyes start to glow green. This will stagger it briefly, allowing you to unload some damage to it!
Get In a Few Hits & Run
The Marauder will only briefly be in a stagger state. If you are still close to it when it returns to normal, prepare to get hit by its Super Shotgun. Your best bet is to get a few good hits in, then immediately back away to avoid getting hit!
Leave This Enemy For Last
When facing a Marauder with a group of enemies, it is recommended that you run around and take care of other enemies first before facing the Marauder. The Marauder will demand your full attention so take out other threats to avoid getting blindsided by outside attacks!
Use Fodder Enemies To Resupply
Leave a few of the fodder enemies to help you resupply should you run low on armor, health, and armor!
Marauder – Attack Pattern & Features
Uses an Axe When Ranged
The Marauder will mainly use an axe to try and damage you. It can be used at mid to long range to deal damage to you.
Lunges & Strikes at Mid Range
The Marauder will lunge at you to strike when at mid range. This attack will also be when the Marauder's eyes turn green. Attacking it during this time will allow you to stagger it, giving you a window to attack.
Sends Out Projectiles at Long Range
The Marauder can also use the Axe to launch red projectiles at you from long range. Keep moving and use your dodges to avoid those projectiles.
Uses a Super Shotgun When Close
Getting too close to the Marauder will cause it to bring out its own Super Shotgun to blast you. It is a difficult attack to dodge, so it would be best to keep a safe distance away, and avoid giving it any reason to bust it out!
Summons a Spectral Hound
Occasionally, the Marauder will summon a Spectral Hound that will relentlessly chase and attack you. This is difficult to dodge since it is able to keep up with you even while you dash! Thankfully, it can be killed with a single Super Shotgun shot. Make this a top priority when it appears!
Protects Itself With a Shield
Shooting at the Marauder when its eyes are not green will cause it to bring up its shield. This shield will keep it safe from most of your damage. Avoid attacking the Marauder when its eyes are red to prevent ammo loss.
How to kill the Gladiator
Weakness Depends On Stage of the Fight
The Gladiator is a boss that you will have to fight during the Sentinel Prime mission. The fight will be divided into two parts. Depending on the stage of the fight, the Gladiator will have differing weaknesses and weak spots.
First Phase Weakness: Blinking Shield
Keep an eye on the Gladiator's shield during the first phase of the fight. Its eyes are usually red, but will occasionally blink then turn green, just before the Gladiator attacks. Once it turns green, shoot at it to stagger the boss and close in for a Glory Kill to chip away at its health.
Second Phase Weakness: Jump Rope Attack
During the second phase of the fight, the Gladiator will sometimes attack you by cornering you, and sending waves of electricity at you. The attack ends with a body check where the boss will dash at you. Dodge it, then attack. If timed correctly, the boss will stagger, giving you an opportunity to deal damage!
Weak to the Ballista
The Gladiator is particularly weak to the Ballista. Time your shots and aim at the boss' weak spots to stagger it often!
Gladiator – Attack Patterns & Features
First Phase: Shielded
During the first phase of the fight, the boss will be shielded, limiting its movement. It will generally stay in the middle of the map and move slowly. Its attacks are generally telegraphed, and will give you enough time to react and evade.
Flail Attack
The Gladiator's shield will blink, then its eyes flash green, signalling an attack. Quickly dodge to the side in order to evade this attack. Make sure to attack during this time as this is can stagger the boss!
Shield Bash
The boss' will shake and hit its shield, and the whole shield will start to glow red. The shield will then send out a spectral form of itself and begin flying forward. This can easily be avoided by dodging to the side.
Second Phase: No Shield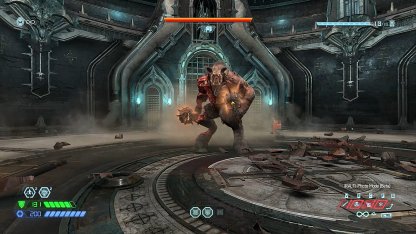 Once you deal enough damage to the boss, the shield will break, prompting the second phase of the fight. During this stage, the boss will start to dual wield flails, and start to move around the stage quickly. However, you can also slowly chip away at its health since it is not shielded anymore.
Flail Twirl
The Gladiator will start to twirl one of its flails, creating a circular yellow shield. During this time, it's best to avoid firing at the boss as hitting the shield will cause the projectiles to fire back at you. Instead, focus on moving and resupplying from fodder enemies in the area.
Flail Attacks
The Gladiator will launch its flails forward, usually aimed at your position. This is telegraphed by the boss winding up its arms or jumping up, so it is easily avoided by dashing away.
Jump Rope Attack
The boss will lock you in position by placing its flails on either side of you, and start to send shockwaves toward you. You can avoid these shockwaves by jumping over or going under them. It ends in a body check with the boss dashing forward at you. Dodging the body check, then attacking will give you an opportunity to deal big damage.
Spawns Fodder Enemies
The boss will also have fodder enemies spawning during both phases of the fight to try and disorient and harass you. Luckily, these enemies are mostly comprised of easy to kill enemies that shouldn't give you to much trouble. You can also opt to resupply health, armor, and ammo from them.
How to kill the Khan Maykr
Khan Maykr Is a Shielded Enemy
Khan Maykr is the boss of the Urdak campaign mission. This enemy will have several health bars, each one safeguarded with a shield that you need to destroy first.
Shields Will Recharge If Not Damaged For Awhile
Khan Maykr's shields will start to regenerate if left unchecked for a few seconds. It is recommended that you employ an aggressive play style and attack whenever possible to prevent the boss' shields from fully replenishing.
Weak to Rocket Launcher
Khan Maykr's shields are particularly weak to your Rocket Launcher since it does a ton of damage. Make sure to equip the Lock-On Burst mod to make your rockets home-in on the enemy. This will minimize the risk of missing your attacks!
Blood Punch To Damage
Once the shields are fully depleted, you can close in on Khan Maykr and take out a health bar with a well-placed Blood Punch! By this time, your Blood Punch will be fully-charged thanks to the damage you've been doing to her shields!
Utilize the Super Shotgun to Close the Gap
One way for you to close the gap on the enemy is to use the Super Shotgun's Meat Hook to pull yourself close to Khan Maykr. Once you are close enough, do a Blood Punch to take out one health bar!
Khan Maykr – Attack Patterns & Features
Shoots Out Projectiles
Yellow Projectiles
Khan Maykr will hurl several yellow projectiles at you in quick succession. These projectiles are long and slanted, meaning they have a high chance of hitting you if you stay put. It's recommended to keep moving once she does this to avoid getting hit.
Purple Orb
Khan Maykr will charge this attack briefly before setting it loose against you. Despite this projectile moving slower than the yellow projectiles, it can still deal considerable damage to you. Keep moving and use dashes to avoid this attack!
Use Objects as Cover to Avoid Getting Hit
There are several objects and platforms in the arena which you can use as cover to avoid the projectiles. This is another way of evading the projectiles that Khan Maykr throws at you.
Summons a Pillar of Light
Khan Maykr will summon a pillar of light that will follow you around for a short while. This pillar will leave a trail of fire which can damage you if you get too close. Thankfully, the pillar moves slowly, and can easily be avoided until it disappears.
Summons Maykr Drones
This boss will also occasionally summon Maykr Drones to harass you during the fight. These enemies are not that hard to defeat, but can become a nuisance when there are several in the area at a single time. Dispatch them as soon as you get the chance with a headshot to resupply.
Creates Damage Zones In Later Phases
Damage zones will start to appear on the lower parts of the arena the more damage you deal. These zones glow red, and will slowly eat away at your armor and health when you are on it. Stay clear of these areas, and use the upper levels to move around.
How to kill Icon of Sin
Final Boss Has Two Stage Battle
The Icon of Sin is the boss for Mission 13, Final Sin. This boss fight will be comprised of two parts. The first will have you breaking the boss' armor, while the second will have you finally killing the Icon of Sin.
Break Armor & Body Parts to Deal Damage
The Icon of Sin's fight will require you to destroy its armor and body parts. A body part will glow red when it is taking damage so if a body part stops glowing while you hit it, that means it's broken and you need to move on to the next part.
List of Armor / Body Parts You Need to Destroy
1. Head
2. Left Chest
3. Right Chest
4. Left Shoulder
5. Right Shoulder
6. Left Hand
7. Right Hand
8. Abdomen
Keep in mind that you can go about destroying these body parts in any order you like. There is no specific procedure to go about breaking the enemy's parts.
HUD Tracks Broken Parts
Your HUD can also serve as a useful guide to show you how many parts you've broken. You can check this on the left side of your screen.
BFG Can Easily Destroy Parts
The BFG 9000 is your best bet at quickly destroying body parts. Since the weapon's projectiles move slowly, you will need to lead your shots in order to successfully hit your mark. Thankfully, the arena has several ammo which you can pick up for the BFG.
Portal Appears After Destroying Armor
After destroying all of the Icon's armor, a green portal will appear. Going through this portal will immediately start the second phase of the fight. It is recommended that you stock up on ammo, health, and armor before passing through the portal.
Second Phase Is Similar to the First
The second phase will still have the same objective as the first phase: destroy the body parts. However, the arena is now more open, and more enemies will appear making the fight more hectic! Focus on moving around, and attack the Icon when the opportunity presents itself!
Icon of Sin – Attack Patterns & Features
Punches & Smashes
The Icon of Sin will sometimes use its fists to punch or smash a side of the arena. Thankfully, this is obviously telegraphed by it winding up. When you see the boss winding up one of its arms, get to the other side of the arena quickly!
Projectile Attack
The boss will also use the pentagram on its head to let loose a number of fireball projectiles at your location. These do not home in on you so being on the move is enough to help you evade this attack.
Rune Projectile Attack (Second Phase Only)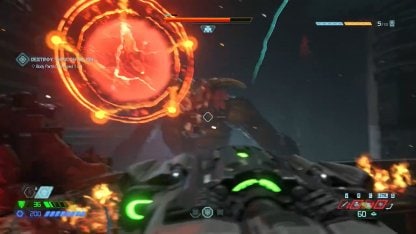 During the second phase of the fight, runes that have a large surface area will also emit from the pentagram. You will need to use dashes and jumps to maneuver around this attack.
Meteors (Second Phase Only)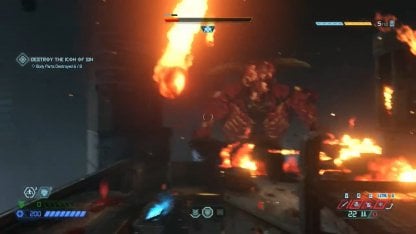 Meteors will also start raining down from the sky. These projectiles are slow, and can be dodged easily by running or platforming to another location.
Get Behind Cover to Avoid Getting Hit
Some areas of the arena can also provide a safe haven for you when the Icon of Sin decides to launch projectiles at you. You can stay behind walls to break line of sight and keep safe as these projectiles do not penetrate through!
Douses the Arena In Fire
The Icon of Sin will raise its hands up and start spewing flames onto the arena. This will cover the lower part of the level on fire, and will damage you if you step on it. Move upwards and stay on the upper platforms until the fire extinguishes.
Summons Demons
Several demons will also be present during this boss fight, preventing you from solely focusing on the boss. These demons can range from generic fodder enemies to heavy hitters such as the Cyber Mancubus!
Use the Crucible Blade To Kill Heavy Hitters
The Crucible Blade is a great way for you to take care and control crowds of demons. You can actually use it multiple times to deal with heavy hitters as there are several charges which you can pick up that regularly spawn on the arena!
Use Enemies to Resupply
If you are starting to get low on either health, armor, or ammo, you can easily kill these demons to resupply and keep you going!