Microtransactions, Wishes, and Currencies in Genshin Impact
03.10.2020
Genshin Impact is a free-to-play, open-world RPG, and that means it's got loads of microtransactions (MTX) as well. I'll preface this by saying that you are not required to spend a single dime to enjoy your journey in Teyvat. However, there will be times when you feel a bit gimped and things get too grindy.
If ever you feel like spending extra, here's our Wishes, microtransactions, and currencies guide to help you out.
Note: Be reminded that the prices you see below are for Philippine Peso.
Genshin Impact's microtransactions and currencies
The Microtransactions Shop
The basic currencies
Mora (gold) — In and of itself, gold is merely an in-game currency and is easily obtained through various means as you explore the game world. However, it can also be purchased via the Souvenir Shop or Microtransactions Shop, but you shouldn't waste your money (or MTX currencies) just for this.
Primogems – Obtained by progressing normally through the game such as via quests, teleporter unlocks, challenges, achievements, and more. Basically, as you complete various content, you're bound to get lots of these.
Crystal Top-up
Genesis Crystals – This is Genshin Impact's premium currency. Purchasing a particular bundle nets you a one-time bonus of extra crystals. Now, if you wish to turn these into Primogems, the exchange rate is 1:1. However, because Primogems are just basic currencies obtained regularly, they cannot be converted into Genesis Crystals.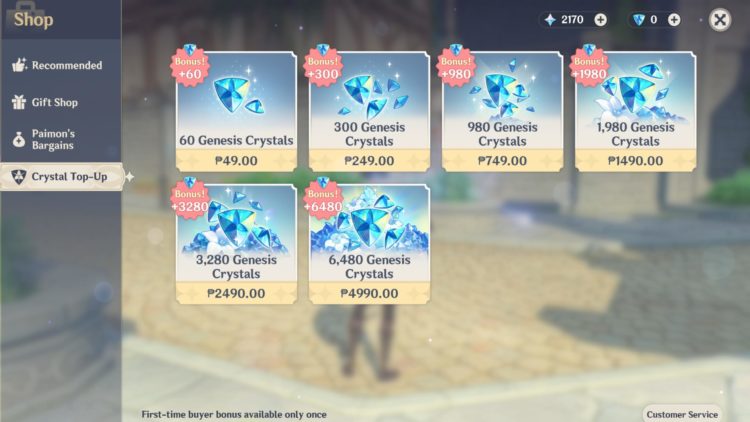 Gift Shop and Recommended
Blessing of the Welkin Moon ($4.99 USD) – This is only purchasable via cash, not through Primogems or Genesis Crystals. This means if you purchased a bundle of Genesis Crystals, you still need to shell out extra for this. It does provide you 300 Genesis Crystals instantly and 90 Primogems each daily reset, and this buff lasts 30 days.
Starter and Wayfarer's Supply Bundles – These provide you with several booster items (i.e., for leveling or crafting), and you're limited to one purchase each week. The Wayfarer's Supply Bundle is more valuable since it has 50x Hero's Wit. One usage of Hero's Wit nets a character a whopping 20,000 EXP to boot.
Paimon's Bargains
This panel has several items that can be purchased via Primogems, Starglitter, or Stardust. The main draws here are your Intertwined Fate and Acquaint Fate, the currencies used for Wishes. Each fate currency requires 160x Primogems (or 160x Genesis Crystals once you've purchased and converted them). Do remember that you're still able to obtain Intertwined Fate and Acquaint Fate through various means (i.e., Adventure Ranks, event mail, quest rewards, and the like).
Other items that you can exchange for include weapons, accessories, leveling materials, and gold. Still, don't bother with these — it's only the Intertwined and Acquaint Fate currencies that have importance.
Making a Wish
Wishes are basically Genshin Impact's "gacha" mechanics. These are completely RNG-based and you might have a lucky "pull." Conversely, you might never get what you want until after dozens of tries.
There are several flavors of Wishes:
➤Beginner's Wish — This is primarily for those just starting out. There's a small discount for Acquaint Fate (the blue one), and your first 10-Wish usage nets you a character, Noelle (she's not that good). Your next 10-Wish usage also guarantees a 4-star rarity character, and the Beginner's Wish expires after this.
➤Limited-time Wishes – These last for several days and would cost you Intertwined Fate (the pink one) per attempt.
➤Standard Wishes — These are permanent fixtures that cost Acquaint Fate (blue).
Note: You might notice that there's a button to spend 10x fate for 10 Wishes instantly. This might be a more viable choice since every 10 Wishes guarantees a 4-star or higher rarity item. Just be reminded that this will be a lot costlier, too.
Try to check the details of each Wish type so you know the probabilities of drops as well as the loot pool. An example would be "Ballad in Goblets." This has a high chance of netting you characters like Venti, Fischl, Xiangling, and Barbara.
Likewise, this Wish has half a dozen 5-star characters that can be obtained (1.6% guarantee), and 29 total 4-star rewards, both weapons and characters (13% guarantee). There are also some 3-star weapons that'll dilute the loot pool, so be prepared for some frustrations.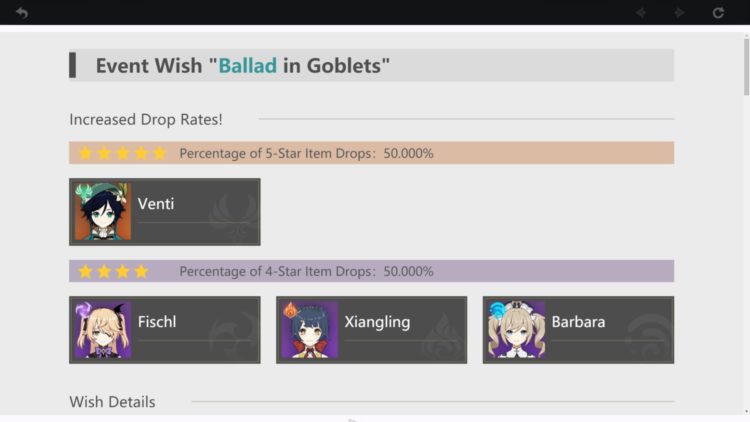 "Epitome Invocation," meanwhile, has a high chance of providing two 5-star weapons (Amos' Bow and the Aquila Favonia sword). Lastly, the "Wanderlust Invocation" Wish feels a bit iffy. It's got 11 5-star rewards, characters and weapons (with only a 1.6% guarantee), and a couple dozen 4-star drops (with a 13% guarantee). Due to the larger loot pool and low-guarantee drops, you probably won't get what you want too easily.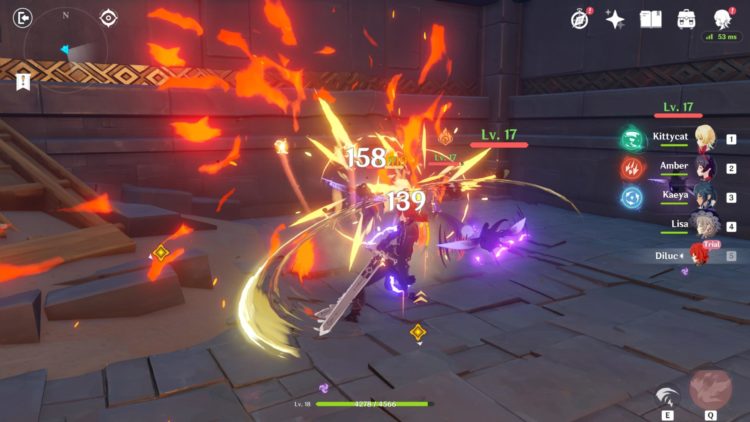 In any case, if you're strapped for cash (or fates), "Ballad in Goblets" is your best option. The aforementioned characters that have a higher chance of getting "pulled" — Venti, Fischl, and Xiangling and Barbara — are quite good. Plus, you still have a chance to get Diluc, an absolute powerhouse.
Note: If you don't have enough Primogems but you have a lot of Genesis Crystals, you have the option to automatically convert them at a 1:1 ratio by clicking on the Wish/spend fate button at the bottom right-hand corner of the Wish panel.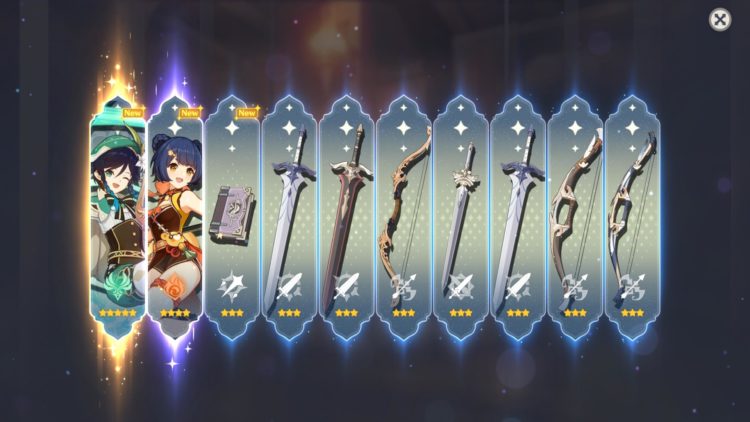 Duplicates
Masterless Starglitter and Masterless Stardust – These currencies are obtained from Wishes. For instance, 4-star weapons from "Ballad of Goblets" and "Epitome Invocation" net a few Starglitter and Stardust respectively. Likewise, should you earn duplicate items — not just for that particular Wish but for all your attempts — you'll also get Starglitter and Stardust.
Stella Fortuna – Lastly, this currency is obtained if you end up with duplicate characters from Wishes. The Stella Fortuna is used in the character menu to unlock their "Constellation" (a.k.a. passives). The Stella Fortuna for the Traveler can also be acquired as either main quest rewards or from the Souvenir Shop.