Papilio Charontis – Hu Tao Story Quest Guide
03.03.2021
Welcome to the Hu Tao Legend Quest guide "Papilio Charontis". In this guide, you will find all the necessary information to complete the quest.
Hu Tao's Story Quest – Rewards
Adventurer's Exp
600
Mora
75,825
Items
Primogems x 60
Guide To Diligence x 5
Hero's Wit x 9
Mystic Enhancement Ore x 15
Hu Tao's Story Quest – Walkthrough Guide
Hu Tao's Story Walkthrough Chart
|   | Procedure |
| --- | --- |
| 1 | Head to Wuwang Hill for a cutscene. |
| 2 | Talk to Hu Tao and follow the quest pointers |
| 3 | Protect the Monolith near Mt. Tiangheng. |
| 4 | Follow the quest pointers and talk to Little Wu and give him Jueyun Chili. |
| 5 | Head to Congzi and receive Luxurious Toybox. |
| 6 | Follow the quest pointers once again. |
| 7 | Enter the send off place near Wuwang Hill and finish the puzzle. |
| 8 | Talk to Hu Tao and finish the quest. |
How To Solve Dungeon Puzzle?
First Gate Puzzle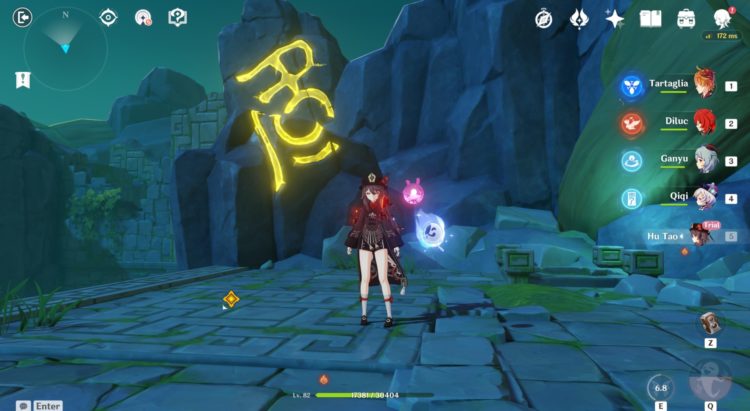 Adjust the angle of the in-game camera to fix the symbol.
Second Gate Puzzle
Burn the thorns to obtain one blue wisp. The second wisp is obtained by riding the wind and doing the same gimmick as the first gate puzzle.
Third Gate Puzzle
Two orbs is needed to unlock the gate. Get the blue orb and follow the path to the left side of the room. You will be sent back to the same place and the blue orb will reset. Place the blue orb that you are holding and get the new orb and place it to the other lantern.