Scourgebringer – Combat & Movement Mechanics Guide
02.11.2020
The introductory stage of the game does a great job at explaining how to use every combat and movement ability. If you haven't played in a while and would like a refresh, you can replay it from the options. In this section, I will explain each one as well as some extra strategies in the game.
Movement
Double Jump
You can always jump a second time in the air by pressing the jump button again. The double jump will reset only when you hit the ground.
Wall Climb
Wall climbing is a very useful tool in this game. You just have to jump into a wall and hold up. If you don't hold up, you will slowly slide down the wall. You could keep tapping up to alternately wall climb and slide down to stay in the same area if you'd like.
Dash
You can dash in any direction by pressing the right bumper. This refreshes itself after a couple of seconds. Since attacking will prevent you from falling, you can keep using dashes and attacks to stay in the air.
Platforms to Drop Through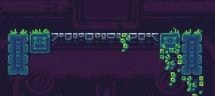 You can drop through the skinny platforms in the image above by holding down and pressing jump. You can also jump through them from the bottom. Furthermore, enemies cannot travel through these platforms. These can be used to lure enemies below you and drop down to attack them unsuspectingly.
Combat
Kunai
Striking with your kunai is the best way to deal damage. It's also dangerous as you have to get in close. Attacking with your kunai will recharge your BLAST.32 revolver or whatever weapon you may have purchased. Attacking with the Kunai will prevent you keep you roughly in the area you are, removing the effect of gravity. Each slash will move you slightly so be careful if you're in a boss battle that has a lot of projectiles, it could actually hurt you if you move into an attack while attacking yourself.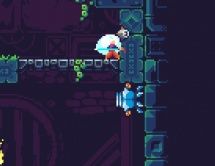 Note – You can attack through walls and platforms as long as your kunai can reach enemies. In the image above, you could attack the Crab Bot from the spot shown.
Smash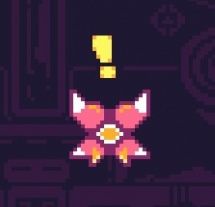 Smashing isn't a very powerful attack but it does have a knock back effect and can stun enemies. Enemies that are stunned will be knocked back even further. Unfortunately, they cannot take damage from environmental hazards but they could be knocked back into a stun-eligible enemy that will stun them. Doing so will unlock the Strike! achievement. Not all enemies can be stunned but the ones that are can only be stunned while the exclamation point is over their head, as shown in the image above. Enemies that can be stunned will only have this happen when they're charging up an attack so if you can't get there quickly, you're best off backing off to have time to avoid their attacks.
BLAST.32
The BLAST.32 is a gun. There are other weapons you can purchase from Greed's shop or find as you progress through the game through drops. You can see the ammo count on the left. Attacking with the kunai will slowly reload your ammo. Just press the right trigger and it'll automatically target the closest enemy. The accuracy isn't perfect and it can still be tough to hit moving enemies while moving yourself so I suggest saving your ammo for when enemies stop. You can aim wherever you'd like by just moving the right analog stick in a direction. Just note that moving the analog stick will fire automatically. You don't hold the analog stick and press the right trigger to figre.
Misc
Peppy
If you complete a level quickly enough, Peppy will appear in the starting room of the next stage. Speak with him and he'll reward you with a random item.